As reported by several sources, including Reuters and Mike Arrington's TechCrunch (where the notion of an "exclusive" gets some debate in the comments section), MySpace has launched its widely-rumoured Digg-alicious news service, although Mike said that it would go live at 7 a.m. and all I get is a login prompt when I go there. Was the site not quite ready for prime-time perhaps? (Update at 12:05 EST — it is now live).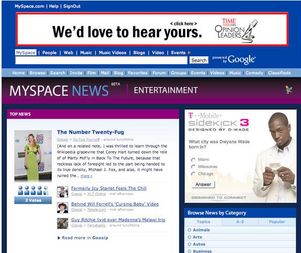 In any case, this new service from the geniuses at Fox Interactive Media (which owns MySpace and is a unit of Rupert Murdoch's media and entertainment behemoth News Corp.) was reported to be coming in March, according to Terry Heaton's PoMo blog. The service will pull in news from RSS feeds — although News Corp. says it will not favour its own services and newspapers — and users can also submit stories, and then vote on them. Apparently news services will be able to opt out and not have their articles displayed, according to News Corp.
Despite the fact that most people who go to such "user-generated" media sites don't actually submit or perhaps even vote on stories, as Seamus McCauley discusses here (based on a new Hitwise survey), I still think this kind of thing could turn out to be very powerful, and that MySpace is smart to do it. MG Siegler at Parislemon says he is skeptical, and Seamus says that it is a missed opportunity, while The Last Podcast says it is just plain bad. Eric Berlin says MySpace missed the boat and should be focusing on getting user-generated content from its members.
The questions in my mind are these: What happens to Jason Calacanis's Digg-ified Netscape? Or to Digg itself for that matter, which has been trying to branch out into non-tech news but without much success (as far as I can tell)? With 100 million members, MySpace has more than 100 times the audience that Digg does. Better yet, how long until Google News decides to add a user voting system? Now that would be fascinating.