In what shouldn't come as a surprise to anyone who has been watching the video download race heat up, retailing behemoth Wal-Mart is announcing a download service today that will feature both movies and TV shows from all six major studios: Walt Disney, Warner Brothers, Paramount, Sony, 20th Century Fox and Universal. Movies will be $10 to $20 and TV shows will be $2.
Obviously, having all six studios taking part will help Wal-Mart by broadening the amount of content it can offer (theoretically at least). One of the biggest issues with other ventures such as the virtual ghost towns known as CinemaNow and MovieLink — which were put together by the studios themselves — is a lack of compelling content, much like the Video On Demand channels that cable providers like Rogers have in Canada, where you get the dregs from the theatres.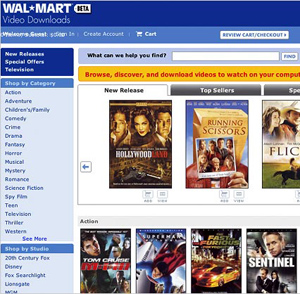 As Mike Arrington at TechCrunch points out, there are plenty of players in this particular game, including the aforementioned MovieLink and CinemaNow, as well as Amazon's Unbox.com (A note to Canadians: none of these are available to Canucks, just as we are banned from watching the TV shows that NBC and other networks are streaming from their websites, and just as we can't get movies and TV shows on iTunes for that matter — don't get me started).
Rafat Ali at PaidContent and others have noted that Wal-Mart's foray into movie rentals a la Netflix was kiboshed after a brief run, and an analyst says in the the New York Times story that the results of this latest venture will likely never be more than "a freckle" on the giant company's earnings. He's undoubtedly right about that — Wal-Mart's revenue last year was $340-billion, and it made a profit of almost $12-billion.
In case you're wondering, that makes Wal-Mart about 10 times the size of Walt Disney Co. in terms of sales, and about four times as large in terms of profit. In fact, it's probably larger than all of the six movie studios put together. Which makes me wonder: why doesn't Wal-Mart offer movies for free? Time-limit the downloads so you only get them for a day, and use them as a loss leader. Of course, the studios would never go for that kind of deal.