Update:
It seems to be gone from Techmeme now — but still. Very weird.
Original post:
Tony Hung at Deep Jive Interests has mentioned this too, but I'm not sure whether the problem is Techmeme's or something that has gone squirrely with Google's Shared Reader. A post entitled "Full Video of Ukraine Air Show Disaster 2002" has been climbing up Techmeme for the past day or so, and as you can see from the screenshot it has reached the top.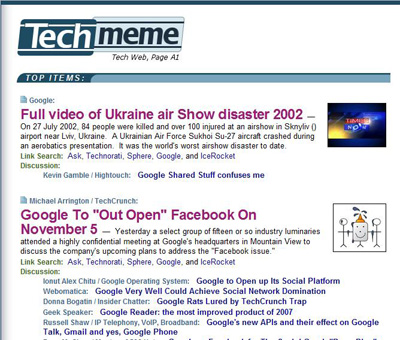 That, as Tony points out, is pretty weird. But it's not the weirdest thing. The weirdest thing is that the link goes to a Google's Shared Stuff page — not the page of stuff that I've shared, as it turns out, but the page of stuff that my friends and contacts have shared. So when I go there, I don't see anything about video of the Ukraine Air Disaster. I see links from Pete Cashmore of Mashable and K. Paul Mallasch and Mark Evans and people like that.
Whose page of shared stuff has the video? Why the heck is it at the top of Techmeme? These and other questions are crying out to be answered (okay, not crying out — begging maybe). The only sub-link to the Ukraine video post the last time I looked at Techmeme was a post by Kevin Gamble entitled "Google Shared Stuff confuses me." You and me both, Kevin.