Update:
Robert X. Cringely posted something on Quechup that was very similar to what others have written, but drew a response from a VP at the company, who took issue with some of Cringely's comments, and the blogger/columnist later posted an update addressing some of these points. The company is apparently working on some changes to its policies.
Original post:
Several different strands of Web 2.0 have come together over the past week or so that I find interesting, in part because of the backlash that seems to be bubbling around the idea of social networks. That backlash has flared up in several places recently — specifically, in the comments about two Web 2.0 services: Quechup.com and Rapleaf.com. The combination of those and other similar controversies has led some to propose a Bill of Rights for social networking. But will that really solve anything?
Quechup is the easiest of the two situations to describe. While I haven't been affected by it directly because I avoided signing up, the site — which is owned by an online dating venture called iDate.com — appears to spam people without permission, which is a no-no by just about anyone's definition. When you sign up, it apparently asks for your email and then sucks your address book in and spams everyone you know with an invitation to what it calls "a social networking platform that is sweeping the globe."
Those with long memories (in Web-time at least) will recall that this is exactly the kind of thing that got Plaxo.com in trouble. It spammed people's contact lists as well, and a number of people refused to use it as a result. Mike Arrington of TechCrunch in particular swore that he would never use it because of its behaviour, and Plaxo later apologized.
Despite several days worth of blogstorm-style posts — such as Ken Camp's "Rat bastard disease of the Internet" post — the folks at Quechup don't seem to care that they have gotten a reputation as the biggest spammers on the Web, to the point where critical blog posts now make up virtually all of the results on the first page of a Google search for the company. Perhaps the iDate service is so lucrative that they couldn't care less what people think.

What happened with Rapleaf.com is a slightly different story: the company is one of a number of social-network aggregators such as Spock.com, which try to help users find and bring together in one place all of the various profiles and information about them that exists on various sites — and, not coincidentally, tries to sell some of the information about those aggregated profiles to advertisers, through a separate service called Trustfuse.com.
Rapleaf also has a service called Upscoop.com, which allows you to upload a contact list and then see who has profiles on which services or networks. In a nutshell, what Rapleaf did was to email all of those contacts to tell them that you were searching for info about them — something it thought was a valuable service, but now admits was wrong and probably also stupid. It says it will no longer do that in such a spammy kind of way.
The company also mentions in passing the idea of a social networking Bill of Rights, which is something that has also been bubbling up for awhile (as Karoli notes here). In its latest incarnation, Mike Arrington and Robert Scoble have joined forces with Marc Canter and Joe Smarr of — yes, you guessed it, Plaxo — to lay the groundwork for a statement of rights that social-networking users would like to see respected. You can read the whole list here, but it includes things such as control over your personal info and what is done with it, etc.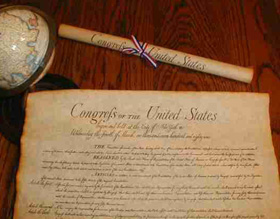 A valuable statement of principles, perhaps. But will it accomplish anything? Companies like Quechup that don't care about their users will continue to engage in all kinds of nefarious behaviour, and a Bill of Rights isn't going to stop them. The only thing users can do is read the terms of service and privacy policy before clicking the "Submit" button (Prokofy Neva has some other concerns with a uniform bill of rights, which she outlines <a href="http://opensocialweb.org/2007/09/05/bill-of-rights/#comment-5">here).
Meanwhile, companies like Rapleaf — which appears to care about its users and its reputation — will respond to the kind of outcry that has taken place without any need for a Bill of Rights (although getting your info removed is far from easy). Don't like what a company is doing with your data or your profile? Cancel your account and go somewhere else.