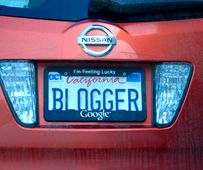 Michael Parsons of CNET.co.uk has a piece in the Times Online — jumping off from the recent Wired profile of Mike Arrington and TechCrunch — that makes an excellent point. If you want to succeed at blogging about anything, you have to work at it. As Parsons says:
"Like all people who rise to the top of their profession, it demonstrates a simple truth: good bloggers work like dogs. You can't expect readers to show up unless you show up. And the internet never closes."
And in order to work that hard, in many cases for very little return (at least in the beginning), you have to love it. And if there is a competitive threat for traditional media, that is it in a nutshell. Parsons says:
"If you're a journalist reading this and thinking, ah, time for a nice lunch and then perhaps this is the day to knock off early, take a moment to think of the bloggers out there who want to eat that lunch."
Well said. Mike has his take here, and there's another good example of hard work in the blogosphere paying off in this piece about Richard MacManus of Read/Write Web, who is a class act.