A blog written by a staffer at Compete — one of the half a dozen or so Web traffic analysis firms that are constantly jockeying for position — says that Digg has
grown by about 1,400 per cent
over the past year, and now has more than 22 million unique visitors. The company says that Facebook grew at about 88 per cent and has a little over 20 million uniques.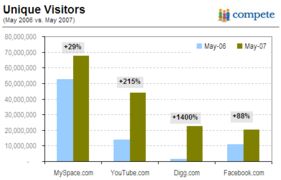 I have no doubt that Digg has been growing quickly — but 1,400 per cent? I find that difficult to believe. And I also find it difficult to believe that the site has more unique visitors than Facebook. Richard MacManus seems kind of skeptical too, and so do many of those who commented on Richard's post — and with good reason. Why? Because all Web traffic measurement systems have flaws, and Compete is likely no different. Alexa apparently counts as a visit if a Javascript on someone's blog pulls a button from Digg, which is ridiculous.
It appears that Compete tries to blend all of the various methods that firms such as comScore and Hitwise and Nielsen use, which include indexing data that comes from ISP logs, toolbars that people have to install, and user surveys (there's a great overview of the issues involved in each of those methods in this BusinessWeek story). But the numbers that Compete has come up with seem awfully high to me.
Digg said last October that it had 20 million visitors. But if it has grown at 1,400 per cent, then shouldn't that figure be a lot higher than just 22 million? And at the same time Digg said it had 20 million, comScore said it had less than one-tenth that many. The Web Metrics Guru, however, said in a post here that he believes the 20 million number was realistic.
I continue to agree with Matt Marshall's post from awhile back: Web traffic analysis is broken, in a variety of ways. Numbers are unreliable at best. Caveat emptor rules.