In case you're not familiar with the case of Josh Wolf, he's the video-blogger and/or anarchist-troublemaker who was found in contempt of court for refusing to turn over his videotape of a demonstration in San Francisco (the video is on his website) and for refusing to testify before a grand jury investigating an attack on a police officer and an arson attempt that took place during the demonstration.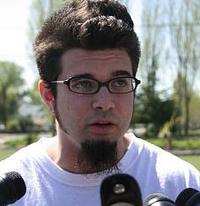 Until his release earlier this month, Wolf had spent more than six months behind bars. If you believe that he qualifies as a journalist, that's the longest time a journalist has spent incarcerated for refusing to turn over evidence to the state. If you don't believe that he's a journalist — well, then some guy who refused to co-operate with police just spent six months in jail. And for what? Because he didn't want to turn over a videotape that doesn't really show anything anyway, in a case in which the criminal charges for the events in question had already been dropped.
Salon magazine tries to get to the bottom of what exactly Wolf is, and what he thought he was doing by refusing to turn over the tape, and why he eventually decided to release it (although he didn't have to testify) in a somewhat confrontational interview.
Part of the argument is that Josh Wolf didn't describe himself as a journalist (he described himself as an artist, video-blogger, anarchist, etc.) and wasn't affiliated with any kind of media outlet. In a Washington Post piece, blogger and lawyer Eugene Volokh argues that Wolf wasn't entitled to legal protection because he wasn't protecting any confidential sources.
Wolf and others have argued, however, that the First Amendment was meant to protect journalists from becoming instruments of the state, and therefore his resistance was crucial to the protection of those values. In interviews, Wolf has talked about how the First Amendment was originally written to protect pamphleteers such as Thomas Paine — who were arguably closer to being the 18th-century version of bloggers than to what we call journalists.
Also worth reading: Jackson West's take on his friend Josh Wolf and the significance of the case at NewTeeVee.