The Barenaked Ladies may be known for their whimsical pop songs, but the group is dead serious about the evils of "digital rights management" — the copy-protection standard used by Microsoft, iTunes and other online music stores to control their content. Not only has singer Steven Page spoken out on the issue, but the band was also one of the founding members of the Canadian Music Creators' Coalition (CMCC), a group that is trying to counter the lobbying by large foreign record companies when it comes to copyright legislation.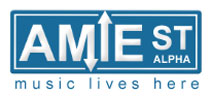 The Ladies are also one of the bands that has put their music online free of any DRM controls, and has even allowed fans to take different tracks and "mash" them up into their own creations. And now the new album from the Barenaked Ladies is available from an online service called Amie Street, according to TechCrunch, thanks to a deal with the Ladies' record label, Nettwerk Music Group. Ars Technica has more on Amie Street here.
Amie Street has a somewhat unusual approach to the online music business: instead of charging a single price for its song downloads, the way that iTunes and others do, the service starts by offering new music (none of which has digital rights management controls) for free, and then gradually increases the price based on how popular the song is — to a maximum of 98 cents per track.
Amie Street keeps 30 per cent of the revenue, and the rest goes to the band or their label. Members can also earn revenue by recommending a song that goes on to become popular. According to a previous feature from TechCrunch, the service launched last summer and was founded by three students from Providence, Rhode Island. But will a pricing system that is based on demand work for music? George Scriban of Global Nerdy is skeptical.
Note:
Although the Barenaked Ladies' songs started at free, they shot up to the maximum price of 98 cents relatively quickly, thanks to the publicity surrounding the service. The songs were available starting on Tuesday, March 6 and by the next day they had been listened to more than 14,000 times.